Balance between sophistication and modernity
Thera Corporate has contemporary architecture, quality of construction, noble finishes and differentiated services that make it a unique property. Besides the sophistication in aesthetic terms, the project is modern in terms of using state-of-art technology, in the services offered and in the mix of tenants that it attracts: from traditional companies to young startups.
Prime structure and sustainability
Thera Corporate´s features include advanced building automation and supervision systems, central air conditioning, electrical and hydraulic installations, power generators and thermal and acoustic comfort, among others. It is also accredited with LEED Gold certification from the U.S. Green Building Council (USGBC), attesting that the building meets the requirements for sustainable buildings (Green Buildings).
Typical floor
Floor plan with a high degree of efficiency, adaptable to different types of layout.
Floor (Barzel´s Units
Boma* Area (sqm)
End 1
End 2
Subtotal (per floor)
5th to 10th
1,032.09
1,066.58
2,098.67
11th
1,034.20
1,032.92
2,067.12
12th, 14th, 15th
1,091.23
1,038.37
2,129.60
Total
21,047.94
* Methodology adopted by the Bulding Owners and Managers Association International for measuring the area.
Location
Thera Corporate
Av. Engenheiro Luís Carlos Berrini, 105 - Brooklin, São Paulo - SP, 04571-010, Brasil
Thera Corporate sits in a privileged location, with direct access to Luís Carlos Berrini and Bandeirantes Avenues. It is only a few minutes away from Congonhas airport and surrounded by several restaurants, gyms, bank branches. Very close by, there are two high-end malls: Shopping Cidade Jardim and Shopping Vila Olímpia.
Train Station
Estação Trem Vila Olímpia
Mall
Shopping Vila Olímpia
Airport
Aeroporto Congonhas
Technical Specifications
Drag the table to see more
Facade
Granite with reflective glasses.
Lobby
Marble finishing. Parking valet services.
Typical floor height
Floor to ceiling - 2.75 m.
Ceiling
Mineral modular ceiling.
Typical floor
Raised floor.
Technical Areas
Technical rooms for air-conditioning equipment and electrical and data shafts for cable routing.
Basement garage
4-level basement garage with 884 parking spaces.
Air Conditioning
Chilled Water Air Conditioning System.
Elevators
10 social elevators and 2 service ones.
Generators
Generators serving 100% of common areas.
Fire protection system
2 internal fire escape staircases, with forced pressurization, antechambers, smoke detector and sprinklers.
Personal & Asset Safety
Closed-circuit TV (CCTV) and 24-hour security.
Bike rack
Bike rack with locker rooms for building users and visitors.
Amenities
Restaurant, coffee area, concierge.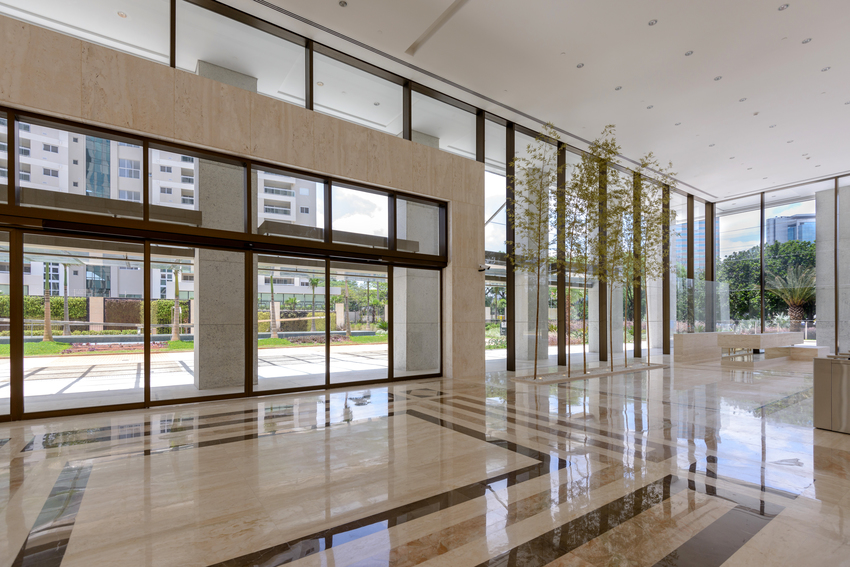 Facade
Granite with reflective glasses.
Lobby
Marble finishing. Parking valet services.
Typical floor height
Floor to ceiling - 2.75 m.
learn more