A fully updated and repositioned building
Pinheiros Corporate has turned into a reference in terms of a successful retrofit project and market repositioning. After its acquisition by Barzel Properties, the building underwent retrofit works and today has a new façade, new lobby with reception and new layout.
16 floors, with great services structure
The reception was unified, organizing and improving the flow of occupants, visitors and service providers, and now it offers a large bicycle rack and locker rooms, thus serving all occupants with greater comfort and convenience.
Typical floor
Efficient floor plan allowing flexible use of layout.
Floor
Boma* Area (sqm)
ground floor with mezzanine
2,366.30
1st
1,420.12
2nd to 15th
671.37
16th with mezzanine
959.67
Total
14,145.27
* Methodology adopted by the Bulding Owners and Managers Association International for measuring the area
Location
Pinheiros Corporate
Rua Henrique Schaumann, 270 - Jardim Paulista, São Paulo - SP, 05413-010, Brasil
Close to two of the main avenues in São Paulo, Paulista and Brigadeiro Faria Lima, the building has easy access to two subway stations (yellow line). In addition, it is surrounded by numerous options for services, food and leisure, such as restaurants, gyms and bank branches.
Convention Center
Centro de Convenções Rebouças
Technical Specifications
Drag the table to see more
Facade
Reflective glasses.
Lobby
Marble and Neolith finishing.
Typical floor height
Floor to slab - 2.50 m .
Slab of the typical floor
Visible slab previously painted in white.
Floor restrooms
1 men's restroom, 1 women's restroom, with 6 cabins each and 1 restroom for the disabled per floor.
Technical Areas
Technical room for air-conditioning equipment and electrical and data shafts for cable routing.
Basement garage
2-level basement garage with 86 parking spaces.
Air Conditioning
Chilled Water Air Conditioning System.
Elevators
4 social elevators to access the tower and 2 service ones.
Generators
Generator serving 100% of common areas.
Fire protection system
2 internal fire escape staircases, with forced pressurization, antechambers, smoke detector and sprinklers.
Personal & Asset Safety
Closed-circuit TV (CCTV), access through magnetic cards and mobile app, electronic turnstiles, barriers and 24-hour surveillance.
Bike rack
Bicycle rack for building users, with locker room for bike users.
Amenities
Auditorium, meeting room, shipping room, concierge.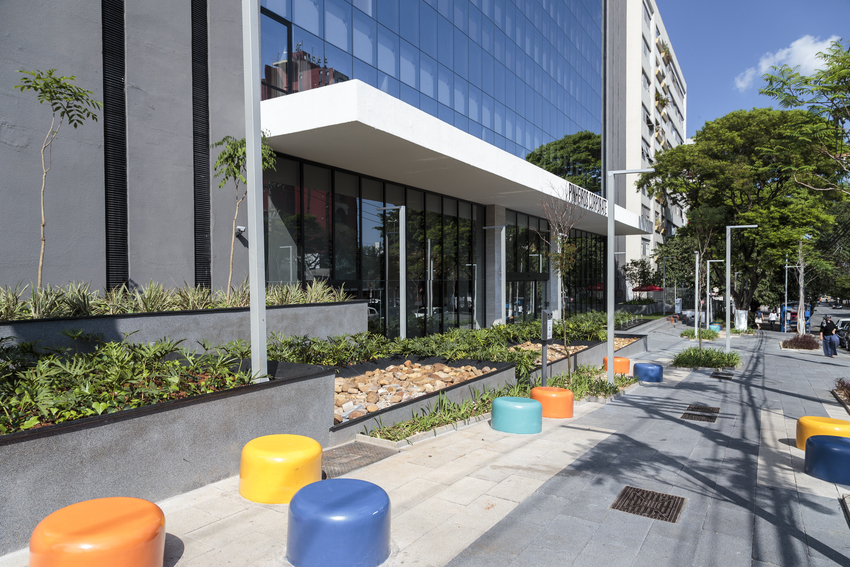 Facade
Reflective glasses.
Lobby
Marble and Neolith finishing.
Typical floor height
Floor to slab - 2.50 m .
learn more